Titan Poker Bonus Code
Titan Poker is offering a 200% up to £1250 or $2,000 first time deposit bonus when you use the TitanPoker Bonus Code "POKERDWL".
If you've never taken the plunge and signed up for free at an online poker room, your choices can be daunting. Many players will want to read reviews, and determine the pros and cons of the rooms they are considering before committing any real money to the site. When weighing the advantages and disadvantages of an online poker room, new players should always consider a particular site's deposit bonus offers.
Deposit bonus offers can be a great way to earn extra cash while you play. The bonus acts as a rebate or rakeback program where you are refunded a percentage of the fees you end up paying just by playing.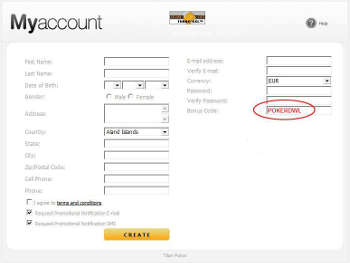 Entering the Bonus Code "POKERDWL" will ensure that you receive the maximum Titan Poker bonus offer, a 200% first time deposit bonus, up to £1250 ($2,000). The bonus is paid out in $5 payments, each payment automatically credited to your account once you've earned 300 Titan Points.
Titan Points are earned by playing real money poker games whether cash tables or tournaments. For cash games, the more rake you contribute to the pot, the more Titan Points you earn. For tournaments, you earn a flat 17 points for every $1 paid in tournament fees.
See the charts below to see how you earn Titan Points:
How to Earn Titan Points
If we strictly look at tournament play, you would have to pay $17.64 in tournament fees to earn the required 300 points to receive a $5 bonus payment.
This equates to a ratio of 3.53 to 1. For every $3.53 paid in tournament fees, you will earn a $1 rebate while your bonus lasts. This equates to a 28% rakeback plan!
BONUS SUMMARY: $3.52 Tournament Fees = $1 in Bonus
This ratio is not bad, but not great when compared to the other online poker rooms. It is slightly higher than the PokerStars bonus and Party Poker bonus which are 3 : 1.
For US Players, the best poker bonus is from Bovada Poker with a 1.67 : 1 ratio!
Now, let's go over the obvious advantages of participating in a first-time deposit bonus of this nature.
If you are a beginner, any amount of money with the potential to pad your bankroll is useful. You will probably be playing lower stakes games, so it may take a little longer to receive your entire bonus, but the extra deposit money is a useful buffer against bankruptcy. It makes it a little more bearable to lose a little money here and there when you have bonus money slowly making its way into your bankroll, keeping you alive.
If you are an experienced player, this bonus is less about protecting yourself from going bust, and more about increasing your winrate. The rakeback aspect can significantly improve a winning player's winrate!
Average rating:
0 reviews